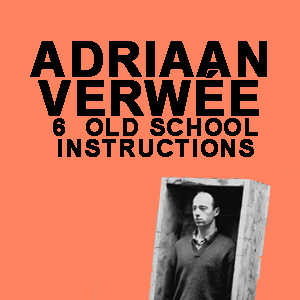 Six Old School instructions :

Re-enact one or more pieces of conceptual art that are listed below. Use photography, video, collage or fieldnotes to document your re-enactment(s).

- Douglas Huebler, Duration Piece # 5 (1969) - photography

Shoot ten photographs during a ten minute period of time, each documenting the location in a Park where an individually distinguishable bird call is heard. Each photograph is made with a camera pointed in the direction of the sound. That direction is then walked toward by the auditor until the next call is heard, at which time the next photograph is made and the next direction taken.

- Francis Alÿs , Looking up, 2001 - video

Stand in the middle of the Sint-Pieters square in Ghent, look up wide-eyed as if observing something. Once a group of passersby intrigued by your gazing has gathered around you, leave the scene.

- Yoko Ono, Cleaning Piece, 1964 – video or photography

Write down a sad memory.
Put it in a Box.
Burn the box and sprinkle the ashes in the field.
You may give some ashes to a friend who shared the sadness.

- Bruce Nauman, Dance or Exercise on the Perimeter of a Square, 1967 - Video

Dance or Exercise on the Perimeter of a Square. Explore the surroundings in space through your own body, move around the edges of a square marked out on the floor. Move to the sounds of a metronome and make repetitive movements, go on for 'hours'.

- Vito Acconci, Follow Piece (1969) – photography, city maps, field notes, collage

Randomly select and then follow an individual passersby you encounter today, maintain you pursuit until the person enters a building.

- On Kawara, "I met" and " I went" (1968-69) – Field notes, city maps

'Typed' or written list of every person you encounter today and keep a mapped record of every movement you make.